Australia's role in the demoscene is considered just as remote, and similarly Western Australia's role in game development is also very isolated. The source of Perth's physical remoteness, and an Australian icon of isolation is the nullarbor desert. Hence, this event was set up, to celebrate the talent base available within an isolated Australia and to demostrate to the world that Australian digital content creators are the best!
Links
Invitation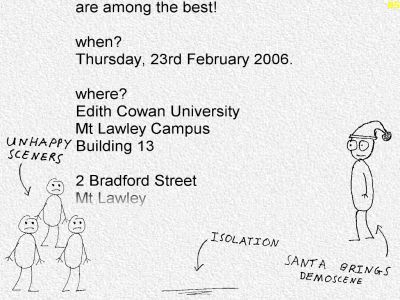 Results
News
Diabetes Supplies and Information
138 Cambridge St
6007 West Leederville, WA
Australia
Entrance Fee
€0.00 Regular
Party Series
Nullarbor 2006 is a part of Nullarbor.